Stop Press 26/10/20
"In these strange and inadvertently oppressive times, and for us and other independent artists struggling to get work out there without cinema screens being available to us even at the best of times, we start to see some light being projected our way. British arthouse cinema is almost non-existent and it may be more the province of Europe or New York – but we are absolutely thrilled to have just been informed that our film/your film The Mire Archive, made with a huge amount of good will and participation from our family and with the people of Monmouth and Hereford, has been officially selected by the "Blow-Up Chicago International Arthouse Film Festival". Named after the amazing and infamous Michelangelo Antonioni 1966 film "Blow-Up", the festival celebrates arthouse cinema as creativity above commerce, which is exactly where we would like it to be.
Thank you all again for helping to make this film. Covid permitting, if we get to Chicago in the Spring for the festival, we'll be there representing all of you!
Much love
Clive and Lynda"
Making a feature film takes a long time so I'm really pleased to see that Eclectic Films are launching "The Mire Archive" on February 1st 2020. In their true spirit of collaboration and community they have decided to stage the world premier at Wales' oldest custom built cinema, The Savoy Theatre, Monmouth. Its a free screening for everyone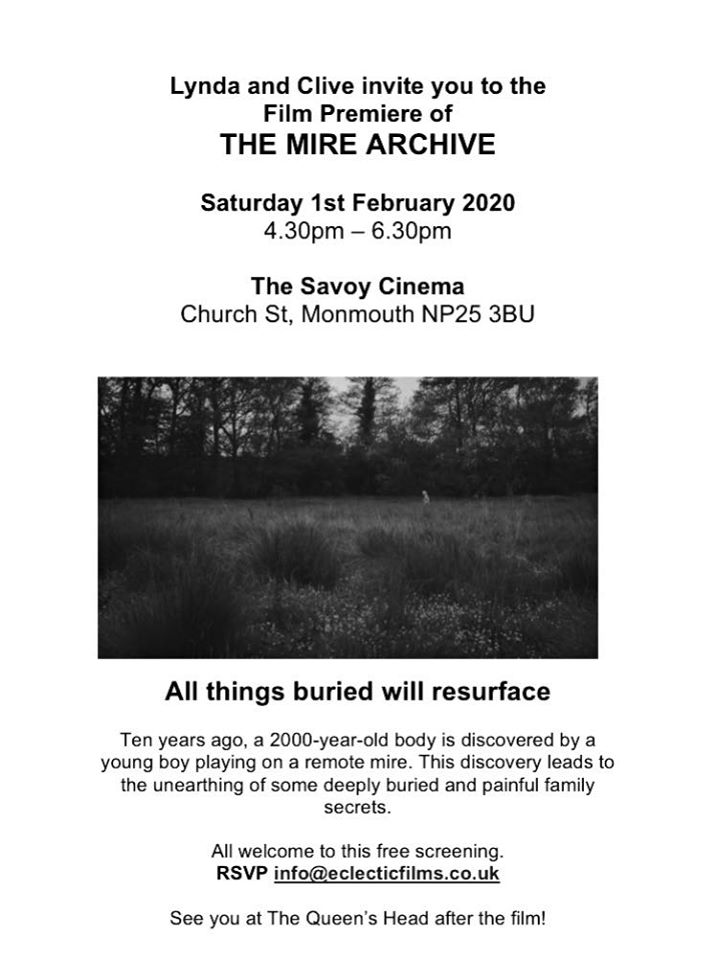 So, why am I writing about it? Well a couple of things. When the Directors told me about the project some while back and we often talk and watch old art cinema together, I thought I'd got some studio recordings which fitted the bill – too right! When I played the tracks it was if it was purpose written, which is such a rare thing.
Importance of suitable music
My favourite film of all time is Werner Herzog's "FitzCarraldo", I identify with the Klaus Kinski character so much its painful, but I have one excruciating criticism; when they travel up river in the Amazon they hear drums. From Burundi for goodness sake!!!!!!! Knowing this loses the plot for me for 3 minutes, otherwise it would be a perfect parody of my life.
Being an extra
The second aspect is that I'm in there as an extra. It was meant to be in the middle of Winter in a pub so everyone was dressed up in their woollen clothes, hats, gloves, boots and a raging fire was on the go. As it happened it was almost Midsummer's Day and absolutely sweltering. I was part of a troupe of mummers complete with Mari Llwyd, playing the Tarogato. I remember we (ironically EIRA/Snow;) had a gig afterwards so it was a full-on day. Great fun! If you are around come on to the premier!