The "Plague Doctors Cure All" are going from strength to strength. We've been in Berry Hill Studio during May laying down tracks for our upcoming videos. We're very happy to have Eclectic Films Limited involved with the project as well. We've also been selected as the "jazz crossover" act for the "Archwilwyr Jazz Explorers" Aberystwyth International Music Festival courtesy of the Arts Council of Wales, Ty Cerdd, RWCMD and Cymru Jazz Wales and will be playing on the 27th July. In the meantime we're playing at the Queens Head, Monmouth, on Wednesday 22nd June.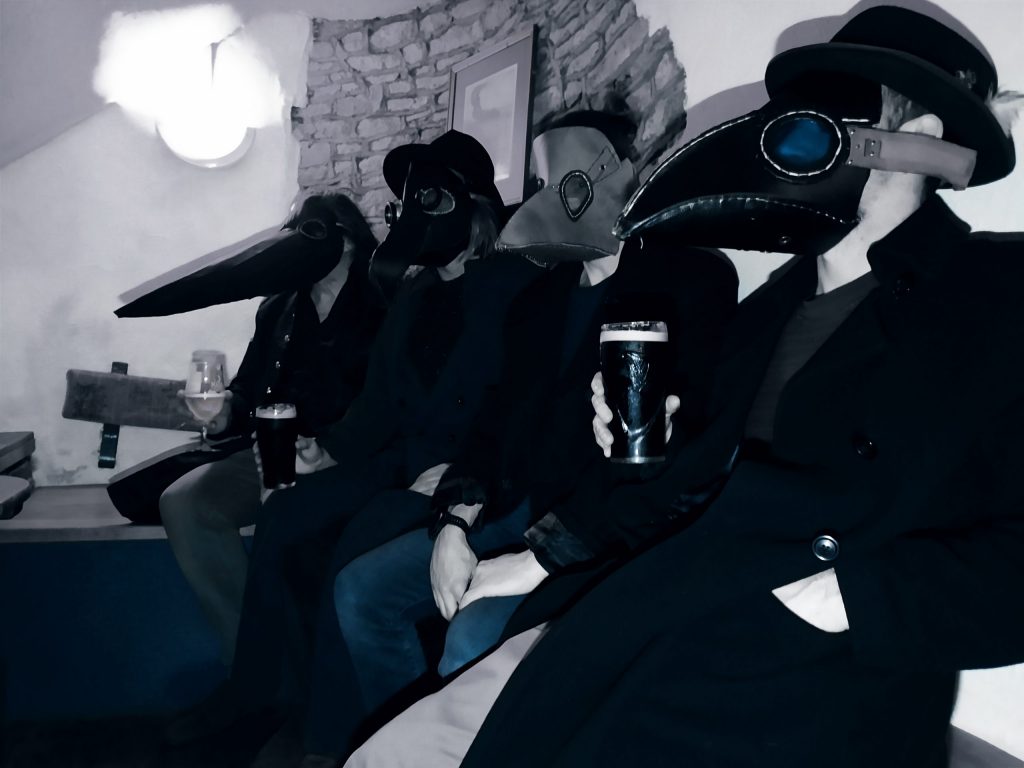 Feeling really privileged to play with such a great group of talented guys. I wrote about eight pieces for the band but have yet to introduce a single one; we just got in the same room, started and it works as an improvising jazz rock group with some goth overtones (I guess). Line up is Will Cass on guitar, Liam Lee-Hines on electric bass, Andy Goodall on drums and myself on Tenor & Soprano Sax and EWI.
Managed a few memorable gigs last year (2021) and looking forwards to a new palette to explore in 2022 as the nation opens up. There's already gigs are happening for EIRA/Snow and the Coltrane Dedication as well as some interesting experimental works and the new band "The Plague Doctors Cure All"
Plague Doctors Cure All Tour Dates & Tickets
Eira/Snow Tour Dates & Tickets
Coltrane Dedication Tour Dates & Tickets
Some fun events in the past …
Start the year 2022 with a bit of free-form ...
Wednesday 5th January 8.30pm  at the  Queens Head, Monmouth, the spiritual home of experimental jazz in S.E. Wales I'm pleased to be part of a quartet comprising Phil Gibbs (Guitar), Ashley John Long (Bass), Alex Goodyear (Drums) and myself on Reeds.
"arwyddion ffyrdd Cymru/Welsh Road signs" Pepper's West Wales Arts Centre, Abergwaun/Fishguard jazz festival.
Saturday 28th August 2021, 1.00 pm
LMnO (Long, Moyes 'nd Owen) playing a series of free-form interpretations based on the road signs of Wales.
The Kitchen Singers.  Handel's "Messiah" in St Nicholas Church, Grosmont 
Saturday 21st December 2019, 7.30pm.
Supporting the true community spirit of Grosmont village, Monmouthshire, and their ambitious production of Handel's Messiah. They asked me if I could play trumpet. A resounding 'no' but I'm doing it on Soprano Saxophone along with harpsichord and string quartet.
BBC Radio 3 "Music Matters" - Interview about Cornelius Cardew and the Scratch Orchestra
Saturday 26th October 2019
After the performance of "The Great Learning:Paragraph 3" at the "Voices of Monmouth - Together" event on Thursday 24th October, Lyndon Owen and Caractacus Downes are interviewed by Kate Molleson as part of their piece about the 50th Anniversary of the Scratch Orchestra.
Voice of Monmouth - Together / Lleisiau Mynwy - Gyda'n Gilydd St Mary's Church, Monmouth
Thursday October 24 2019 
"The Great Learning:Paragraph 3" Cornelius Cardew and a new piece by Ashley John Long. 
Music in Monmouth are hosting an event which brings together numerous singing and playing groups from the Monmouth community resulting in an 80 strong choir and an Orchestra of 20 double basses to join in a truly communal event. The event will be jointly conducted by Caractacus Downes (Choir) and Lyndon Owen (Orchestra). Several Guest performers will be appearing.
www.musicinmonmouth.com
Green Man Festival, Nr. Crughywel           SOLD OUT
Sunday August 18 2019 
Maurice El Medioni - film and music 
Eclectic Films will be showing a new film 'Maurice El Medioni', and celebrating all that is Middle Eastern Jazz with a specially devised set from world jazz multi-instrumentalists Eira\Snow.  
Latitude Festival, Henham Park near Southwold        
Friday 19th July 2019
The Lavish Lounge BBC3 stage
DJ Max Reinhardt (BBC Radio3 Late Junction presenter) laying down world beats with Lyndon Owen, Caractacus Downes, Sheema Mukerjee and friends.  
Latitude Festival, Henham Park near Southwold        
Thursday 18th July 2019
Lavish Lounge Screen
Playing improvised soundtracks to Ingmar Bergman's "Persona" (1966) and Luis Bunuel's "Belle de Jour" (1967) with the Instant Scorechestra with Sheema Mukherjee (Sitar & Bass)  Sarah Nicolls (prepared and unprepared piano)