(Well almost delivered but the snow came down and the organiser's postponed the event until 27th February 2021. If youve bought a ticket then its still valid. Looking forwards to playing!!!)  
"What's the Coltrane Dedication and the Covid-19 pandemic got in common?" I hear everyone shout. Well, it just so happens that around about a year ago we were all suddenly faced with a series of social restrictions, and for musicians in particular it marked the end of live music for quite some time. So, what better time for the band to launch their album " … yn yr Amgueddfa … at the museum" recorded live at Ceredigion Museum, Aberystwyth on 28th September 2019.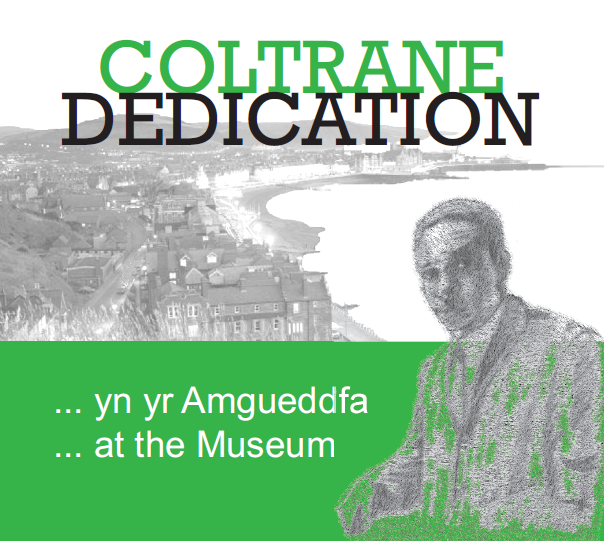 Bad timing! but the real shame was that we (or rather the management) had lined up a great series of gigs throughout the year and of course we would have been promoting it. These included Aberjazz Festival, Brecon Jazz Festival, Monmouth Festival Alternative, Cardiff Jazz Cafe (sadly now closed), The Globe at Hay, to name a few. Some of these have been postponed for later in the year but we suddenly have a gig at The Muse, Brecon on Saturday 13th February, 2021! (*** postponed due to snow until 27th February ***)
Livestreaming at the Muse, Brecon
Quite rightly we still have tight restrictions on public performance so we are only able to play as a livestream. The band will be on stage, socially distanced, and a professional video crew will be filming us throughout. There will be no audience which is a big deal for improvising bands as there is something about having other people in the room; they are part of the sound and I'm convinced a subliminal form of communication takes place which allows us to create in a particular way in a particular environment. It will be different, but its live and its five guys doing stuff that's a bit edgy.
60 minute concert streamed live from The Muse in Brecon, in association with Muse team, Ratio Studio, Brecon Jazz Club / Jazz Club Cymru – hoping to bring some winter cheer to jazz and music lovers everywhere. The event made possible with Welsh Cultural Recovery Fund & Brecon Town Council
It will be broadcast live at 7.00pm on Saturday 13th February and if you want to join the event follow the link on the Brecon Jazz website
The collective power or the power of a collective
The Coltrane Dedication Quintet, being a collective, is able to draw on a great wealth of musicians from Wales and the Borders. Everyone is so hungry to play its quite exciting. Whoever I called up gave an instant "yes" but as the rules have moved, even in the past 2 weeks, we've had to have a few personnel changes to the published information. So on this occasion the band is going to be:
Iolo Whelen – Drums
Aidan Thorne – Bass
John Paul Gard – piano & token Englishman
Caractacus Downes – Tenor & Baritone Sax
Lyndon Owen – Tenor & Soprano Sax.
The devil is in the details
The gig starts at 7pm and we play for an hour. Given our extemporary approach this doesn't get us to play many tunes as we tend to move out into uncharted waters but our nominal set list is:

Spiritual
Ole
Brazilia
Resolution
Psalm
Most of these can be heard in a different form on our album so check us out at Digital Download available from BandCamp (or buy the CD)